Meg's inverted nipple first mentioned in "A Fish out of Water" is brought up when Chris complains about being poked in the back by three points, but Meg explains that two of them are moles.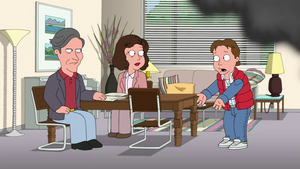 A cutaway depicts George and Lorraine McFly from the Back to the Future films discussing the "coincidence" that their son Marty is a dead-ringer for the "Calvin Klein" they met in 1955. Lea Thompson reprises her role as Lorraine in that scene.
"Sailing" by Christopher Cross plays as Bruce and Jeffrey sailboard to Block Island.
While in bed, Peter suggests to Lois to do something Anderson Cooper once tried before he hated it. Cooper came out as being homosexual in 2012.[1]
Ad blocker interference detected!
Wikia is a free-to-use site that makes money from advertising. We have a modified experience for viewers using ad blockers

Wikia is not accessible if you've made further modifications. Remove the custom ad blocker rule(s) and the page will load as expected.