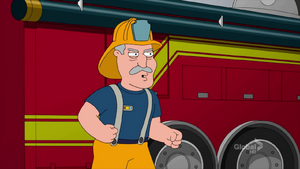 Fire Captain Beckman was the leading fireman of Quahog Fire Station No. 5. During an open house in "Ratings Guy", he has to contend with Joe Swanson who ridicules the fire fighters for having hoses instead of guns and shoots the tires of their firetruck as he says he'll see them on the softball field. Beckman later demonstrates how they used to fight fires with their bare hands but the fire turns on him and shoots him twice before turning the gun on itself.
Ad blocker interference detected!
Wikia is a free-to-use site that makes money from advertising. We have a modified experience for viewers using ad blockers

Wikia is not accessible if you've made further modifications. Remove the custom ad blocker rule(s) and the page will load as expected.