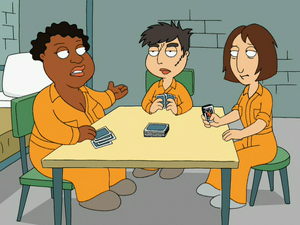 Fisty, Stabby & Balls are Lois' fellow inmates when she is sent to prison for shoplifting in "Breaking Out is Hard to Do". Fisty invited Lois to play cards with the group. When Lois inquires if those are Biblical names Fisty says that hers is.
Ad blocker interference detected!
Wikia is a free-to-use site that makes money from advertising. We have a modified experience for viewers using ad blockers

Wikia is not accessible if you've made further modifications. Remove the custom ad blocker rule(s) and the page will load as expected.