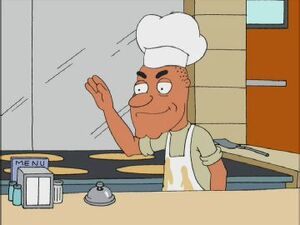 Flappy is the owner of Flappy Jack's House of Pancakes. He gives Meg Griffin a job in "Love Thy Trophy" when he believes she is an unwed mother because she took Stewie with her. He wins over Stewie by feeding him pancakes. He unknowingly provides Sandy Belford with Meg's information in Belford's investigation into Stewie's home life and safety.
Flappy has a crowd scene cameo in the audience at The Brine during The King and I in "The King Is Dead".
He is voiced by Seth MacFarlane.
Ad blocker interference detected!
Wikia is a free-to-use site that makes money from advertising. We have a modified experience for viewers using ad blockers

Wikia is not accessible if you've made further modifications. Remove the custom ad blocker rule(s) and the page will load as expected.