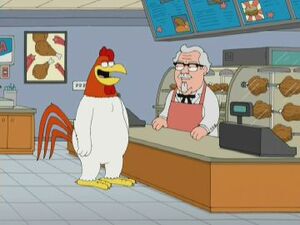 Foghorn Leghorn is a famous talking rooster in various Looney Tunes theatrical shorts.
In "Back to the Woods" he walks into a Kentucky Fried Chicken restaurant and greets Colonel Sanders and comments on how good it smells in there. Sanders then decapitates him with a meat cleaver. His still-functioning head comments that his body looks just like a chicken with his head cut off. It is then when the head realizes what happened.
Foghorn was voiced by Seth MacFarlane.
Ad blocker interference detected!
Wikia is a free-to-use site that makes money from advertising. We have a modified experience for viewers using ad blockers

Wikia is not accessible if you've made further modifications. Remove the custom ad blocker rule(s) and the page will load as expected.