The serial number of the dollar bill in the opening credits matches the writing season and episode production number.
The instrumental opening theme with a series of sight gags follows the pattern of the "Road to" mini-series, and is the first time it has been used outside of that series.
This episode has no Cutaway gags.
Although Chris celebrates a birthday in this episode, no actual age is named.
Cleveland actually working for the post office is a callback to "Take a Letter".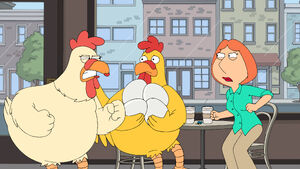 Ernie the Giant Chicken's wife Nicole makes her second appearance. Despite being given the name of "Ernie" in "No Chris Left Behind" and confirmed in the DVD Fact-Ups for "Something, Something, Something, Dark Side" and used as his proper name in news releases including video provided by FOX[1], Ernie is only identified as "Giant Chicken" here, something that had been a contentious issue with some fans.[2]
Seamus phone number is (917) 555-0112. The same number is given as Peter's in "Nanny Goats".
Peter plays a mock DJ to "Two Princes" by the Spin Doctors.
Night Ranger's "Sister Christian" plays at Dr. Hartman's drug den.
The Screaming Black Dolphins sing part of "(Sittin' On) The Dock of the Bay", originally by Otis Redding.
The cover of "Money (That's What I Want)" in the strip club back room is performed by the Flying Lizards.
The "funny arms" characters include the non-masturbating tyrannosaurus rex from "12 and a Half Angry Men", a Wacky Waving Inflatable Arm-Flailing Tubeman, along with the guy with claw machine arms and hands from "Brokeback Swanson" and elongated arms man from "Stuck Together, Torn Apart", although his shirt color has changed from red to green.
Seamus ends up on the wrong end of a Whammy from the game show Press Your Luck.
The stormtroopers that appear during Peter's temper tantrum are drawn in the classic style, rather than the First Order style of Star Wars: The Force Awakens.