"Follow the money" is a phrase intended to lead to a motivating source. The phrase originated in the film All the President's Men.[1]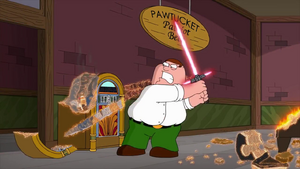 The plot device is similar to films such as the 1974 made-for-TV movie The Gun and perhaps more closely with the 1993 film Twenty Bucks in which an everyday object is passed through multiple owners.
Peter's temper tantrum parodies that of Kylo Ren from Star Wars: The Force Awakens, including the two stormtroopers who decide not to intervene.
The drug den scene parodies a similar one in the film Boogie Nights.[2]
Everyone making an appearance takes a group photograph for Ellen at the end of the episode, referencing her group selfie at the 2014 Oscars.[3]