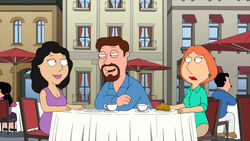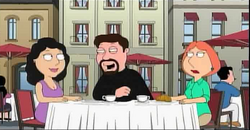 Brian and Stewie appear in only one scene.
There is a scene where Lois asks if they can do muppets sightseeing and then Lois and Bonnie turn into muppets and act like them.

In "Inside Family Guy", the hallways of the production offices feature props from past episodes including a cartoon version of Muppet Lois.

The Cleveland steamer is referenced with one of Bonnie's suitors using a baguette as a euphemism.
The same suitor had his design changed from a blue shirt in the promo pictures to an all-black outfit in the episode.
Though later revealed to be controlled by Quagmire, this is the third time that Joe has walked. The first time was in "And the Wiener is..." and the second time was in "Believe It or Not, Joe's Walking on Air".
When Peter asks Chris to tell the dates of what happened, one of Peter's questions was "September 11, 2001", which is already a date.