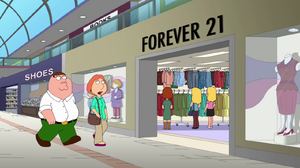 Forever 21 is an American chain of clothing retailers with branches in major cities in America, Europe, Asia, and the Middle East that offers clothing and accessories for young women, men, and teen girls.
When Lois forces Peter to go clothes shopping at the Quahog Mall in "Vestigial Peter", she tricks him into trying on a dress in Forever 21 and photographs him as she calls him a "gaybo" when he does.
Ad blocker interference detected!
Wikia is a free-to-use site that makes money from advertising. We have a modified experience for viewers using ad blockers

Wikia is not accessible if you've made further modifications. Remove the custom ad blocker rule(s) and the page will load as expected.