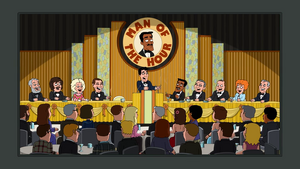 Foster Brooks (May 11, 1912 – December 20, 2001) was an American actor and comedian, notable for his nightclub performances and appearances in television programs.
Foster share the dais during the roast of Sammy Davis, Jr. in an infomerical for the Dean Martin roasts in "Roasted Guy".
Ad blocker interference detected!
Wikia is a free-to-use site that makes money from advertising. We have a modified experience for viewers using ad blockers

Wikia is not accessible if you've made further modifications. Remove the custom ad blocker rule(s) and the page will load as expected.