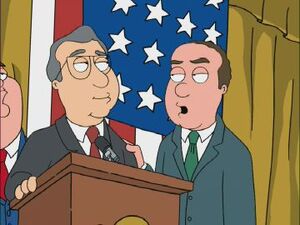 Frank is one of the members of Congress in "Mr. Griffin Goes to Washington". When Peter Griffin turns on the El Dorado Cigarette Company, Frank proposes fining them "Infinity Billion Dollars". Another Congressman congratulates him but suggests he pick a real number.
Ad blocker interference detected!
Wikia is a free-to-use site that makes money from advertising. We have a modified experience for viewers using ad blockers

Wikia is not accessible if you've made further modifications. Remove the custom ad blocker rule(s) and the page will load as expected.