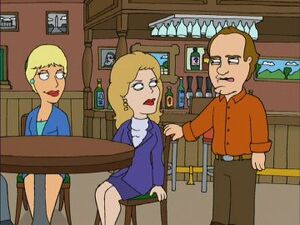 Frank Fontana was a fictional reporter on the television show Murphy Brown. Murphy's best friend and sometime competitor, Frank the only person who addresses her as "Murph".
In "A Picture's Worth a Thousand Bucks", former Murphy Brown stars Candice Bergen (as Murphy), Faith Ford (as Corky Sherwood), Joe Regalbuto (as Frank Fontana), and Charles Kimbrough (as Jim Dial) inject dated "buzzwords" into a nondescript conversation, poking fun at the show's topical humor.
Ad blocker interference detected!
Wikia is a free-to-use site that makes money from advertising. We have a modified experience for viewers using ad blockers

Wikia is not accessible if you've made further modifications. Remove the custom ad blocker rule(s) and the page will load as expected.