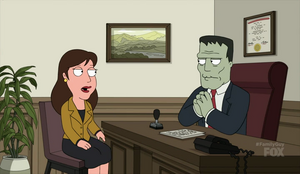 Frankenstein's monster is a fictional character that first appeared in Mary Shelley's novel, Frankenstein, or The Modern Prometheus. The creature is often erroneously referred to as "Frankenstein", but in the novel the creature has no name.
Brian sets up a cutaway when he realizes that Olivia Fuller has been using him and Stewie to support her fame and compares her to "Frankenstein" after he became a loan officer.
The monster is shown listening to a pitch from a loan applicant, but reacts in rage and denies her application when she suggests that the store would sell pitchforks.