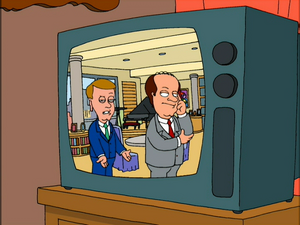 Frasier is an American sitcom that was broadcast on NBC for eleven seasons, from September 16, 1993 to May 13, 2004. A spin-off from the canceled Cheers, Frasier stars Kelsey Grammer as psychiatrist Frasier Crane, David Hyde Pierce as his brother Niles Crane, John Mahoney as his father, Jane Leeves, Peri Gilpin, and Dan Butler.
In "Peter, Peter, Caviar Eater", Brian forces his owner Peter Griffin to watch an episode of Frasier in an attempt to teach him how to act with class.
In "Mr. Saturday Knight", when a man at Ye Olde Renaissance Faire talks using sophisticated English, Peter reminds him that not everyone watches Frasier.
After a fight in "The Book of Joe", Joe offers his hand and asks "Friends?" Peter responds with "Frasier."
Peter doubts Meg's claim of modeling in "This Little Piggy", claiming that her only chance of fame would have been as the dog on Frasier.