Fred Flintstone
Talk

0
4,777pages on
this wiki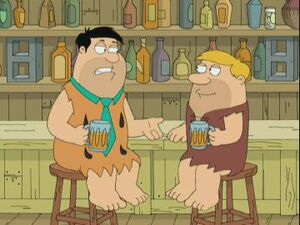 Fred Flintstone is the main character on the cartoon sitcom The Flintstones.
He makes an appearance in the episode "Dammit Janet!" as the interpretation of the police's description of Peter Griffin after the Cuba-bound plane was hijacked. The interpretation of Peter's wife Lois was of Wilma Flintstone, Fred's wife.
In Patriot Games, he bet with Stewie on the Mike Tyson vs. Carol Channing episode of Celebrity Boxing saying "Bet-bet-bet-bet!" just like he did in the episode "Betting Freddy".
Fred is also seen in "Believe It or Not, Joe's Walking on Air" during the Quahog Men's Club ball. He is talking to best friend Barney Rubble about how, when he poked his head into Barney's house and watched Betty undress for such a time that he ended up getting an erection.
In "Peter's Daughter", he is seen demanding a divorce from Wilma because the cat locks him out during the closing credits of the original series and Wilma won't open the door, calling her a passive-aggressive bitch.
He also appears in "Stew-Roids", when Lisa states that Chris smells like Fred's ass. Fred responds angrily that nobody asked her to smell it.
In "Quagmire's Baby", Fred is featured on a Wildest Police Chases video tape being chased by cops which ends at a drive-in theater where he places Pebbles and Bamm-Bamm on the top of the car. He crashes into a concession stand and runs for a fence but gets beaten by the cops.
In these appearances he was voiced by Jeff Bergman.
In 2013, Seth MacFarlane will revive The Flintstones on FOX.