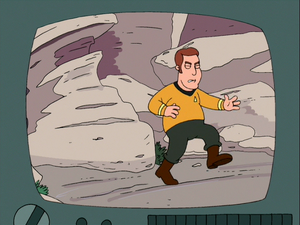 Fred Lubbins is the actor Neil Goldman credits as William Shatner's stunt double during the fight scene in the Star Trek episode "Arena" fighting the Gorn in "The Kiss Seen Around the World". As Neil cuts through the fight scene, he notes one scene in particular where William Shatner is on-screen but Fred's coffee cup is visible on a rock.
In reality, the stunt double for the scene was Dick Dial.[1]
Ad blocker interference detected!
Wikia is a free-to-use site that makes money from advertising. We have a modified experience for viewers using ad blockers

Wikia is not accessible if you've made further modifications. Remove the custom ad blocker rule(s) and the page will load as expected.