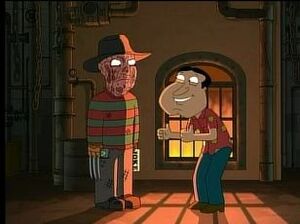 Freddy Krueger is a fictional character from the A Nightmare on Elm Street series of horror films. He first appears in Wes Craven's A Nightmare on Elm Street (1984) as a disfigured dream stalker who uses a glove armed with razors to kill his victims in their dreams, which ultimately results in their death in the real world. However, whenever he is put into the real world, he has normal human strength and vulnerability. He has once fought fellow film killer Jason Voorhees. He was created by Wes Craven, and has been consistently portrayed by Robert Englund since his first appearance. In the remake, however, Krueger is now portrayed by Academy Award-nominee Jackie Earle Haley.
In "Love, Blactually" he is referred to when Brian Griffin is at the family's costume party and meets a girl dressed as an aborted fetus. He asks if she is one of Freddy Krueger's victims.
In "The Splendid Source", Glenn Quagmire goes into the dreamworld and pays Krueger to tell Peter a dirty joke in his dreams so he can poop in his bed. Peter wakes up and realizes when one defecates in their dreams, they defecate in reality.
In "And Then There Were Fewer", it was revealed that Tom Tucker once auditioned for the role of Krueger until James Woods convinced him to back out. The extended version of the episode expands upon this, showing Tucker act out a scene in-character during filming.
External Links