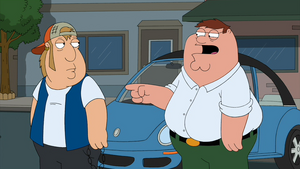 Carl's hat reverses color as he starts to leave the parking lot.
Joe is clearly seen sitting in a standard car seat in his patrol car when he receives the disturbance call, but rolls out already in his wheelchair when he arrives at the Quahog Community Center.
Ad blocker interference detected!
Wikia is a free-to-use site that makes money from advertising. We have a modified experience for viewers using ad blockers

Wikia is not accessible if you've made further modifications. Remove the custom ad blocker rule(s) and the page will load as expected.