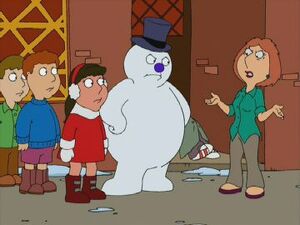 "Frosty the Snowman" is a popular song written by Walter "Jack" Rollins and Steve Nelson, and first recorded by Gene Autry and the Cass County Boys in 1950. It was written after the success of Autry's recording of "Rudolph the Red Nosed Reindeer" the previous year; Rollins and Nelson shipped the new song to Autry, who recorded "Frosty" in search of another seasonal hit. Like "Rudolph", the song was adapted into a thirty-minute animated television special. The program, which first aired on December 7, 1969 on CBS (where it has aired ever since), was produced for television by Rankin/Bass and featured the voices of comedians Jimmy Durante as narrator and Jackie Vernon as the title character.
Frosty appeared in "A Very Special Family Guy Freakin' Christmas". After first being punched by an enraged Lois Griffin, he tried to confront her and ended up getting torched when Lois made a flamethrower by drinking alcohol and spitting it at him through a match.
He was voiced by Seth MacFarlane.