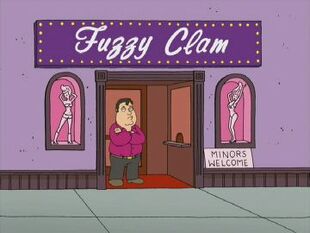 The Fuzzy Clam is a strip club located in Quahog, Rhode Island first seen in "Fore Father" where the club readily accepts minors, and employed a bouncer. The name for the strip club comes from a nickname for a woman's private area.
It appears again in "Quagmire's Baby", with a remodeled exterior.
Peter Griffin and his friends throw Carter Pewterschmidt a bachelor party here in "Business Guy".
Peter and Lois successfully reunite Joe and Bonnie Swanson at the Fuzzy Clam in "Internal Affairs".