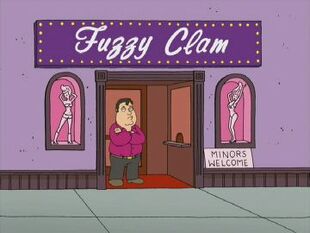 The Fuzzy Clam is a strip club located in Quahog, Rhode Island first seen in "Fore Father" where the club readily accepts minors, and employed a bouncer. The name for the strip club comes from a nickname for a woman's private area.
It appears again in "Quagmire's Baby", with a remodeled exterior.
Peter Griffin and his friends throw Carter Pewterschmidt a bachelor party here in "Business Guy".
Peter and Lois successfully reunite Joe and Bonnie Swanson at the Fuzzy Clam in "Internal Affairs".
Ad blocker interference detected!
Wikia is a free-to-use site that makes money from advertising. We have a modified experience for viewers using ad blockers

Wikia is not accessible if you've made further modifications. Remove the custom ad blocker rule(s) and the page will load as expected.