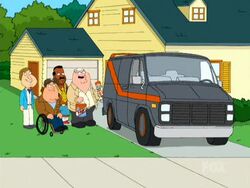 The GMC Vandura was a van made by the General Motors Corporation. The van first appeared in "Love Thy Trophy" as Cleveland Brown's deli van. The van's second appearance was in "Brian Goes Back to College", when it was used as the van of The A-Team. The van's third appearance was in "Ocean's Three and a Half", when Peter Griffin, Glenn Quagmire, Cleveland and Joe Swanson were robbing Carter Pewterschmidt's mansion. The van's fourth appearance was in "The Juice Is Loose", when the guys were spying on O.J. Simpson.
Ad blocker interference detected!
Wikia is a free-to-use site that makes money from advertising. We have a modified experience for viewers using ad blockers

Wikia is not accessible if you've made further modifications. Remove the custom ad blocker rule(s) and the page will load as expected.