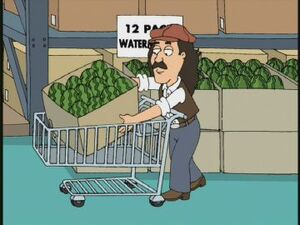 Gallagher (born Leo Anthony Gallagher on July 24, 1946) is an American comedian and prop comic, most popularly known for smashing watermelons as part of his act.
Gallagher is seen at CostMart, stocking up on watermelons in "Stuck Together, Torn Apart". A bystander asks whether the year is 1981, pointing out that Gallagher's peak popularity was some time ago.
Ad blocker interference detected!
Wikia is a free-to-use site that makes money from advertising. We have a modified experience for viewers using ad blockers

Wikia is not accessible if you've made further modifications. Remove the custom ad blocker rule(s) and the page will load as expected.