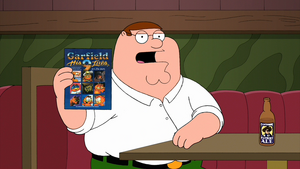 Garfield: His 9 Lives is a 1984 book of illustrated short stories showing the "nine lives" of comic strip character Garfield. It was adapted into an animated television special in 1988. The book is divided into ten segments with the latter nine revealing events in Garfield's nine lives. Each of the nine stories has a short preface of Garfield in his modern incarnation, explaining how these various lives shaped aspects of Garfield's personality.
In the extended DVD cut of "Amish Guy", Peter retorts with a quote from Garfield about not being overweight but under tall. He then goes on an extended rant against Jim Davis and the book Garfield: His 9 Lives in which he proclaims that half of the stories are not funny and some of which are deeply disturbing such as "Primal Self", in which it is suggested that he kills his elderly owner. Peter offers to give Jim a pass because of the normal laughs given by the strip but notes that Garfield: His 9 Lives frightened him so bad that he needed to sleep with his mother Thelma Griffin, for a week.
Ad blocker interference detected!
Wikia is a free-to-use site that makes money from advertising. We have a modified experience for viewers using ad blockers

Wikia is not accessible if you've made further modifications. Remove the custom ad blocker rule(s) and the page will load as expected.