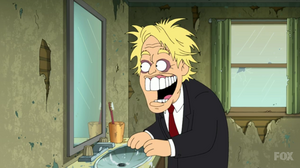 Gary Busey (born June 29, 1944) is an American film and stage actor and artist.
In "Prick Up Your Ears", Stewie Griffin uses Herbert's dentures to impersonate Busey.
He is mentioned in "Partial Terms of Endearment" when Dr. Hartman showed Lois pictures of babies from the sperms and eggs of several celebrities saying: "Here's Hilary Swank and Gary Busey". The resulting baby notably received enormous teeth.
Busey appears in "Road to the North Pole" when Stewie says reality has betrayed Busey. He is seen talking into a mirror to a supportive crazy-looking clown in a run-down bathroom.
Ad blocker interference detected!
Wikia is a free-to-use site that makes money from advertising. We have a modified experience for viewers using ad blockers

Wikia is not accessible if you've made further modifications. Remove the custom ad blocker rule(s) and the page will load as expected.