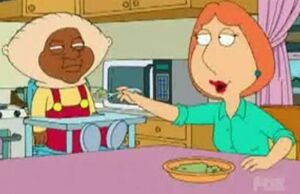 Gary Coleman (February 8, 1968 – May 28, 2010) was an American actor, known for his childhood role as Arnold Jackson in the American sitcom, Diff'rent Strokes, which ran from 1978–1986, and for his small stature as an adult.
On Family Guy, he was Stewie Griffin's replacement at home in "Brian Goes Back to College". The reason he was chosen to 'replace' Stewie is unknown, but it was stated that he "owed him a favor". In a deleted scene for the episode, he asks Stewie if they want to hang out only to have Stewie decline. In another deleted scene he is shown stalking Stewie only to be chased away.
Gary Coleman is mentioned in "Thanksgiving" when Peter's thought process trips up the show directors on a cutaway. Unable to determine what he wants, they slip in a cutaway of The Cowardly Lion as Lindsay Lohan's gynecologist.