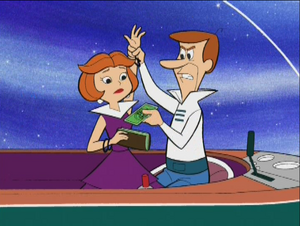 George Jetson is the "pater-familias" of the eponymous Jetson family, from the Hanna Barbera 60s cartoon series The Jetsons. The Jetsons was a development of The Flintstones, the premise changed from a Stone Age setting to a setting in the future, where scientific advances have people living in space, driving flying cars, and using fantastic machines.
In "Brian in Love", the closing sequence of The Jetsons is parodied. Eventually George gets back into the house, to tell Jane, who had not heard his screams, about the problem. He strictly tells Elroy, his son, to go to his room, so he could reprimand his wife for not hearing him.
In "Meet the Quagmires", Brian Griffin enthuses about the changes Peter's visit to the past have wrought to the present, including flying cars. Action cuts to the opening sequence of The Jetsons, complete with the original theme song. This time George asserts himself by grabbing Jane's hand as she leaves the car with his whole wallet. Jane responds dubiously. Later, Peter needs to summon Death to return to the past, observing however that he only shows up when someone dies. At that moment Jane falls to her death, presumably at his hands, in front of them, accompanied by a fluttering dollar bill.
George is voiced by Seth MacFarlane in "Brian in Love" and by Jeff Bergman in "Meet the Quagmires".