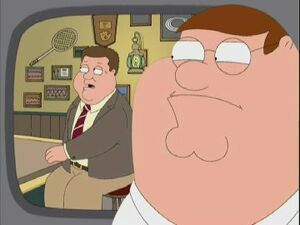 George Robert Wendt (born October 17, 1948) is an American actor, best known for the role of Norm Peterson on the NBC sitcom, Cheers.
In "Road to Rupert", he provides the voice of Norm when Peter Griffin tries to amuse himself by pretending he is his co-star.
He also appears providing his own voice in character as "Norm" from Cheers in the "Three Kings" segment for Stand by Me as part of the gang led by Ace Merrill, portrayed by Mayor Adam West.