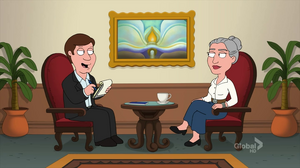 Georgia Totto O'Keeffe (November 15, 1887 – March 6, 1986) was an American artist.
When Brian and Stewie try to decipher the meaning of Anne Murray's "Snowbird" in "Chris Cross" and have different opinions, Stewie admits that only the artist knows for sure. A cutaway shows Georgia stumbling over the meaning of one of her paintings.
Georgia O'Keeffe is voiced by Alex Borstein.
Ad blocker interference detected!
Wikia is a free-to-use site that makes money from advertising. We have a modified experience for viewers using ad blockers

Wikia is not accessible if you've made further modifications. Remove the custom ad blocker rule(s) and the page will load as expected.