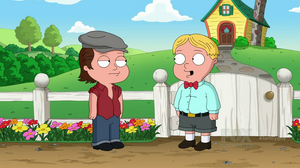 Georgie Porgie is a character in a nursery rhyme of the same name.
The most common modern lyrics are:
Georgie Porgie, Puddin' and Pie,
Kissed the girls and made them cry,
When the boys came out to play
Georgie Porgie ran away.
in "Grimm Job" Jack, of "Jack and the Beanstalk"'s wife nags him about not doing a good job of watching Georgie and his sleezy brother Rick Porgie.
Ad blocker interference detected!
Wikia is a free-to-use site that makes money from advertising. We have a modified experience for viewers using ad blockers

Wikia is not accessible if you've made further modifications. Remove the custom ad blocker rule(s) and the page will load as expected.