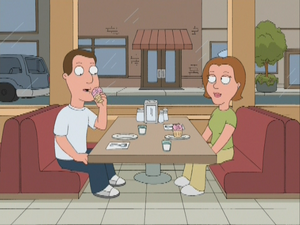 Gerald was a customer at Peter Griffin's old restaurant after Lois reminds him it was once his dream to open a restaurant. After he ate one of "Peter's Special Cupcakes", his head blew up, as seen in "No Meals on Wheels". His girlfriend was horrified. Peter said that the secret to the exploding cupcake was in the frosting but he won't tell.
Ad blocker interference detected!
Wikia is a free-to-use site that makes money from advertising. We have a modified experience for viewers using ad blockers

Wikia is not accessible if you've made further modifications. Remove the custom ad blocker rule(s) and the page will load as expected.