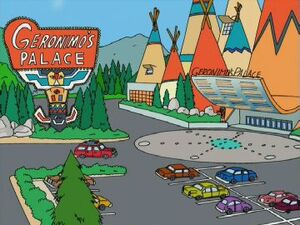 Geronimo's Palace is the Native American-owned Casino seen in "The Son Also Draws" located in New York. Leonard Cornfeathers is the boss of the casino. When Peter pretends he is in his tribe, Leonard makes up the Vision Quest. Employees include Sees You Coming, Deals With His Wrist and Watches You Pee.
Ad blocker interference detected!
Wikia is a free-to-use site that makes money from advertising. We have a modified experience for viewers using ad blockers

Wikia is not accessible if you've made further modifications. Remove the custom ad blocker rule(s) and the page will load as expected.