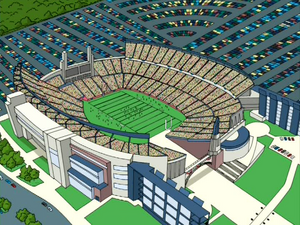 Gillette Stadium is a multi-purpose stadium located in Foxborough, Massachusetts, located 21 miles (34 kilometers) southwest of downtown Boston and 20 miles (32 km) from downtown Providence, Rhode Island that serves as the home stadium and administrative offices for the New England Patriots football team and the New England Revolution soccer team. The facility opened in 2002, replacing Foxboro Stadium. The seating capacity is 68,756, including 6,000 club seats and 87 luxury suites. The stadium is owned and operated by Kraft Sports Group, a subsidiary of The Kraft Group, the company through which businessman Robert Kraft owns the Patriots and Revolution. The stadium was originally known as CMGI Field before the naming rights were bought by Gillette after the "dot-com" bust.
The stadium is seen often during "Patriot Games", when Peter Griffin joins the Patriots. During a game against the Washington Redskins, the Patriots name on the scoreboard is mistakenly placed above the Redskins, making them the Redskins the home team. This is where Griffin leads a performance of "Shipoopi", and games against the Dallas Cowboys and London Sillinannies, the latter an exhibition, are played.
After the guys get sick of the Patriots losing in "3 Acts of God", they seek out God to find out why he has disfavored the team. God reveals that he is upset after giving the Patriots three Super Bowl victories, Bill refuses to smile. The guys see Bill at Gillette Stadium but fail to make him smile until Peter's description of Joe's disability treatments cause Bill to finally smile as God agrees to leave the Patriots alone.
The stadium can be seen on the television at The Drunken Clam when Peter brings in a bull in "The Woof of Wall Street".