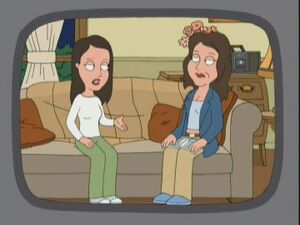 Gilmore Girls is an American comedy drama series created by Amy Sherman-Palladino and starring Lauren Graham and Alexis Bledel. The series made its debut on The WB and later aired on The CW and Netflix. It was known for its fast dialogue with endless run-on sentences. Both Seth MacFarlane and Alex Borstein have had past roles on the show.
When Olivia visits Stewie Griffin one last time in "From Method to Madness", he claims to have a guest role on an upcoming episode of Gilmore Girls.
Lois and Brian watch an episode in "The Perfect Castaway", in which the mother and daughter talk very fast in a reference to the manner in which dialogue is spoken in the show.
They appear in a television ad when Stewie tries to watch a television station with inconsistent volumes in "A Lot Going On Upstairs".