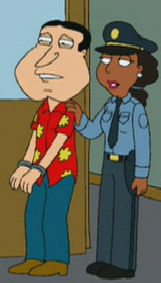 Gina L. Gershon is an American film and television actress, known for her roles in the films Cocktail (1988), Showgirls (1995), Bound (1996), and Face/Off (1997).
In "Blind Ambition", she provided the voice of the policewoman who brought Glenn Quagmire out upon his release.
In "Believe It or Not, Joe's Walking on Air", one of the hypotheticals discussed between the men involved a choice of having sex with Gershon.