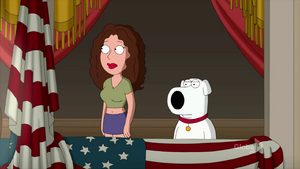 Ginger Gonzaga is an American actress with previous roles in Hot in Cleveland, The Good Guys and in Seth MacFarlane's film Ted.
Ginger provides assorted voices, including Cindy in "Yug Ylimaf" and Chris' teacher in "Boopa-Dee Bappa-Dee".
Ad blocker interference detected!
Wikia is a free-to-use site that makes money from advertising. We have a modified experience for viewers using ad blockers

Wikia is not accessible if you've made further modifications. Remove the custom ad blocker rule(s) and the page will load as expected.