God and His Magical Rainbow Suspenders
Talk

0
Share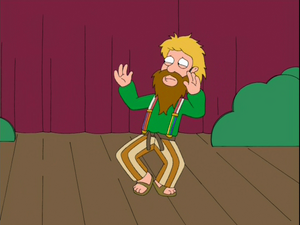 God and His Magical Rainbow Suspenders is an original play put on by the students of James Woods Regional High School.
In "PTV", Meg Griffin participates in a performance, forcing her father Peter to miss the Primetime Emmy Awards. Peter was not excited because of his daughter's elementary school performance of Robin Hood. In one scene, God, played by a classmate, explains the significance of the suspenders to Meg's character through interpretive dance.
Ad blocker interference detected!
Wikia is a free-to-use site that makes money from advertising. We have a modified experience for viewers using ad blockers

Wikia is not accessible if you've made further modifications. Remove the custom ad blocker rule(s) and the page will load as expected.