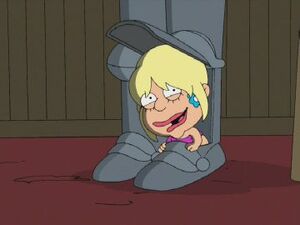 Goldie Hawn (Born November 21, 1945) is an American actress, film director and producer, known for her 'ditzy blonde' persona in a several comedies.
In the "Lil' Griffins" segment of "Family Guy Viewer Mail", a Little Rascals-esque version of Hawn pops out of the knight armor and shouts, "Sock it to me!", from the late 1960s-early 1970s sketch comedy show, Rowan and Martin's Laugh-In.
Ad blocker interference detected!
Wikia is a free-to-use site that makes money from advertising. We have a modified experience for viewers using ad blockers

Wikia is not accessible if you've made further modifications. Remove the custom ad blocker rule(s) and the page will load as expected.