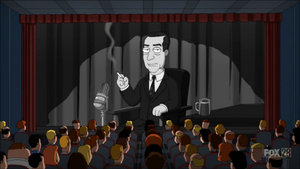 Good Night, and Good Luck is a 2005 American drama film directed by George Clooney. The film was written by Clooney and Grant Heslov and portrays the conflict between veteran radio and television journalist Edward R. Murrow and U.S. Senator Joseph McCarthy of Wisconsin, especially relating to the anti-Communist Senator's actions with the Senate Permanent Subcommittee on Investigations.
Peter Griffin watches Good Night, and Good Luck in "Tom Tucker: The Man and His Dream" although he claims he was tricked by the tagline into leaving the theater early.
Ad blocker interference detected!
Wikia is a free-to-use site that makes money from advertising. We have a modified experience for viewers using ad blockers

Wikia is not accessible if you've made further modifications. Remove the custom ad blocker rule(s) and the page will load as expected.