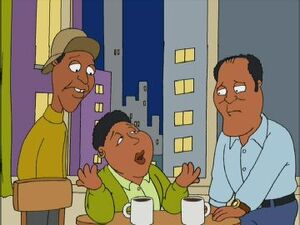 Good Times is an American sitcom that originally aired from February 8, 1974, until August 1, 1979, on the CBS television network. It was created by Eric Monte and Michael Evans and produced by Norman Lear. The show was a spin-off of Maude, which was itself a spinoff of All in the Family.
The family watches an episode of the show in "If I'm Dyin', I'm Lyin'". Here, Florida Evans, played on the show by Esther Rolle, complains about her name.
Among the television shows featured in the background during Peter's introduction to ""Family Guy" Through the Years" is an image of Good Times.