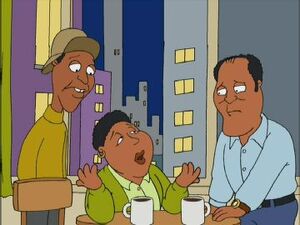 Good Times is an American sitcom that originally aired from February 8, 1974, until August 1, 1979, on the CBS television network. It was created by Eric Monte and Michael Evans and produced by Norman Lear. The show was a spin-off of Maude, which was itself a spinoff of All in the Family.
The family watches an episode of the show in "If I'm Dyin', I'm Lyin'". Here, Florida Evans, played on the show by Esther Rolle, complains about her name.
Ad blocker interference detected!
Wikia is a free-to-use site that makes money from advertising. We have a modified experience for viewers using ad blockers

Wikia is not accessible if you've made further modifications. Remove the custom ad blocker rule(s) and the page will load as expected.