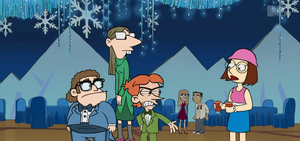 Good Vibes was an American animated television series created by David Gordon Green for MTV. The series follows the exploits of recent Jersey transplant Mondo and his new best friend Woodie as they live their life in Playa Del Toro, a fictional Southern California beach town. The series was cancelled due to poor ratings after only 12 episodes.
In "Don't Blow Your Wadska", Mondo hears what he believes to be the sounds of a porno film which turns out to be paused while an episode of Family Guy plays.
A parody of Meg Griffin had a cameo in "Red Tuxedo". In addition, Mila Kunis also appeared as herself.
Meg also appears as one of Babs Brando's Facebook friends in "Mondo Mia".
External Links
Ad blocker interference detected!
Wikia is a free-to-use site that makes money from advertising. We have a modified experience for viewers using ad blockers

Wikia is not accessible if you've made further modifications. Remove the custom ad blocker rule(s) and the page will load as expected.