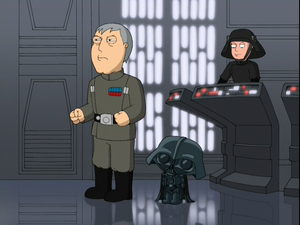 Governor Wilhuff Tarkin or Grand Moff Wilhuff Tarkin is a fictional character in the Star Wars universe and the primary antagonist in Star Wars Episode IV: A New Hope. He was portrayed by British actor Peter Cushing in that film. A younger version of the character makes a brief cameo in the prequel film Star Wars Episode III: Revenge of the Sith, where he was portrayed by Wayne Pygram.
He is portrayed by Mayor Adam West in Blue Harvest, Family Guy's parody of the film. A scene of archive footage from Blue Harvest with Tarkin also appears in It's A Trap!.
External Links
Ad blocker interference detected!
Wikia is a free-to-use site that makes money from advertising. We have a modified experience for viewers using ad blockers

Wikia is not accessible if you've made further modifications. Remove the custom ad blocker rule(s) and the page will load as expected.