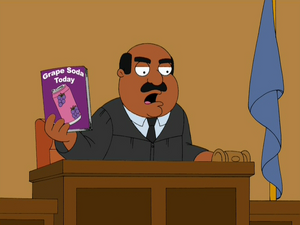 Grape Soda Today is an American weekly magazine that centers on grape soda. Peter Griffin found it in Cleveland Brown's mailbox in "McStroke", as Brown was at least at the time, a subscriber. Griffin would later use it to bribe the judge in his lawsuit against McBurgertown. However, not only is bribing the judge a horrible tactic, but the judge already subscribes to the magazine.
Ad blocker interference detected!
Wikia is a free-to-use site that makes money from advertising. We have a modified experience for viewers using ad blockers

Wikia is not accessible if you've made further modifications. Remove the custom ad blocker rule(s) and the page will load as expected.