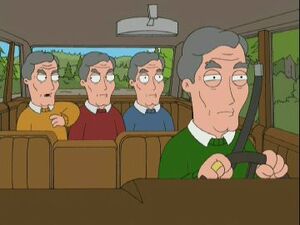 Gregory Peck (April 5, 1916 – June 12, 2003) was an American actor.
One of 20th Century Fox's most popular film stars from the 1940s to the 1960s, Peck continued to play important roles well into the 1980s. His notable performances include that of Atticus Finch in the 1962 film, To Kill a Mockingbird, for which he won his Academy Award.
The Pewterschmidts watch Gregory Peck has been in that bathroom stall for over 45 minutes now in "Padre de Familia".
In "Saving Private Brian", Peck and his identically sounding kids are in the car when the kids begin complaining. Peter Griffin says that he and his wife, Lois, do not have Peck's kids as their own after Chris joined Splash Log, a heavy metal band.
Brian and Lois also watch Roman Holiday, which starred Peck, in "Play It Again, Brian".
Seth MacFarlane portrays Peck in a screen test for the film, Transformers, in Family Guy Presents: Seth & Alex's Almost Live Comedy Show.
Brian praises Peck in To Kill a Mockingbird in "Quagmire's Mom" while the subject concerns the novel.