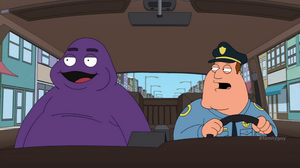 Grimace is a character introduced by McDonald's in November 1971 as the "Evil Grimace" villain for McDonaldland and Ronald McDonald. "Evil" was soon dropped from Grimace's name, and Grimace was reintroduced in 1972 as one of Ronald's friends.
In "Prick Up Your Ears", Peter dismisses Lois dressing up as the Grimace but threatening to steal hamburgers, referring to the Grimace as Ronald's retarded friend.
In "Life of Brian", Joe rejects Vinny's request for a ride-along, noting that he doesn't like doing them. A cutaway shows Grimace simply sitting and staring while Joe becomes uncomfortable.
Peter's attempt to send death threats to Grimace in "Inside Family Guy" fall short when his letters demanding an extended period to buy shamrock shakes are returned.