Peter and Lois start the episode having finished celebrating their wedding anniversary.
This episode contains only a single cutaway gag in the original broadcast. Two additional cutaways are added in the uncensored version.
During the Jack and the Beanstalk story, Cleveland can be heard offscreen as 'Little Boy Brown'.
The Big Bad Wolf (Brian) tells grandma (Barbara Pewterschmidt) that he has Cool Whip, first using its normal pronunciation, then using the mispronunciation running gag when she did not believe that he was Little Red Riding Hood (Stewie Griffin).
The shot of the bells ringing and the design of the carriage where Cinderella and Prince Charming ride off at the end of the episode are taken straight of the 1950 Disney film version of Cinderella.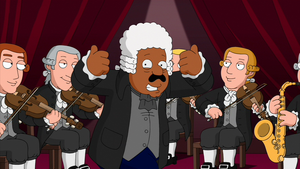 The score playing during Prince Charming and Cinderella's ballroom dance is an orchestral version of the Family Guy theme.
It is mentioned that Gal Fridman won a gold medal in 2000 Olympic Games at Athens, but the Olympic Games took place in 2004.
In the uncensored version, the prince (Peter) and Cinderella (Lois) say that the next song that played would be their song. The orchestra led by Cleveland Brown plays The Cleveland Show theme.