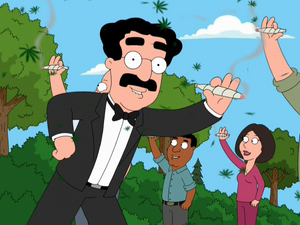 Julius Henry "Groucho" Marx (October 2, 1890 – August 19, 1977) was an American comedian and film star famed as a master of wit.
He made 13 feature films with his siblings the Marx Brothers, of which he was the third-born. He also had a successful solo career, most notably as the host of the radio and television game shows You Bet Your Life and Tell it to Groucho. His distinctive appearance, carried over from his days in vaudeville, included quirks such as glasses, cigars, and a thick greasepaint mustache and eyebrows.
He is shown with pot instead of his trademark cigar in "420"'s "A Bag of Weed".
In "Grumpy Old Man", Peter draws a black mustache and eyebrows on Carter Pewterschmidt to make him look like Groucho Marx. Carter's wife, Babs, found it hilarious.