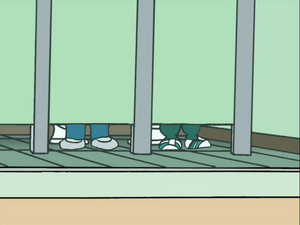 Haley Joel Osment (born April 10, 1988) is an American actor. After a series of roles in television and film during the 1990s, Osment rose to fame with his performance as Cole Sear in M. Night Shyamalan's thriller film, The Sixth Sense. The role earned him a nomination for Academy Award for Best Supporting Actor.
He appeared in "The Thin White Line" where he is credited as "kid in bathroom". He also has minor roles in "There's Something About Paulie" and "Dammit Janet!".
Peter Griffin plays his character, Sear, in a recreation of the "I See Dead People" scene in The Sixth Sense for an unaired advertisement for Big Pete's House of Munch in "No Meals on Wheels".