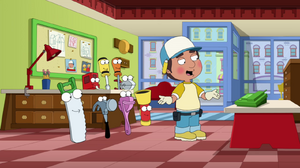 Handy Manny was a Disney animated children's television program, originally part of the Playhouse Disney daily block intended for preschoolers. It was later moved to Disney Junior.
In "Brian & Stewie", Brian reveals he has a gun in case he wants to commit suicide, Stewie responds that he feels the same way when he watches Handy Manny.
When Stewie discovers he has herpes from Brian in "Herpe, the Love Sore", he has to call Handy Manny at the shop, asking him to take the call off of speakerphone so he can explain what has happened.
Manny is voiced by Freddy Rodriguez.
Ad blocker interference detected!
Wikia is a free-to-use site that makes money from advertising. We have a modified experience for viewers using ad blockers

Wikia is not accessible if you've made further modifications. Remove the custom ad blocker rule(s) and the page will load as expected.