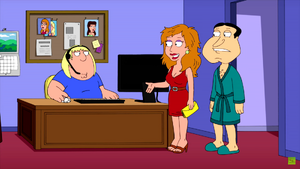 Hannah is one of Quagmire's sexual partners in "The Boys in the Band".
When he hires Chris to be his secretary to arrange his liaisons, he is tasked with scheduling Hannah's next 'appointment' in the following two weeks. In addition to informer her to avoid eating the night before her next visit, he suggests she leave her panties in a bowl for a chance to win a free lunch. After he takes him up on the offer and departs, Chris finds out from Quagmire that there is no actual lunch and he just occasionally enjoys sniffing the bowl.
Hannah is voiced by Rachael MacFarlane.
Ad blocker interference detected!
Wikia is a free-to-use site that makes money from advertising. We have a modified experience for viewers using ad blockers

Wikia is not accessible if you've made further modifications. Remove the custom ad blocker rule(s) and the page will load as expected.