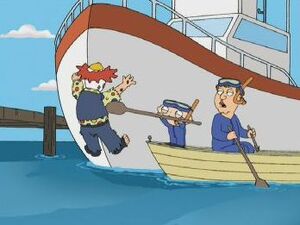 Harelip Steve is a contact Stewie Griffin receives from a woman named Doreen in "A Fish out of Water". They both mention something about the man that creeps them out. His most notable feature is a cleft lip.
He later helps Stewie scrape Mordecai the Dancing Yiddish Clown off the S.S. More Powerful Than Superman, Batman, Spider-Man, and the Incredible Hulk Put Together, the boat belonging to Stewie's father Peter Griffin, by providing a rowboat.
Ad blocker interference detected!
Wikia is a free-to-use site that makes money from advertising. We have a modified experience for viewers using ad blockers

Wikia is not accessible if you've made further modifications. Remove the custom ad blocker rule(s) and the page will load as expected.